Brennan Heart (Fabian Bohn) from the Netherlands has an impressive track record as a DJ and producer with over 100 releases. He's known for his unrestrained efforts and perseverance, constantly improving his skills and studio setup.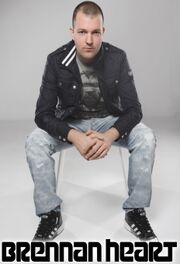 He experimented with several styles of music like Techno, Hardtrance and Techtrance, before focussing on Hardstyle and establishing his own universal sound. Hardstyle is not only about the quality of beats; the songs, melodies and vocals are important elements of the evolution of the genre. Brennan Heart is a pioneer with this sound; with a track like 'Just as Easy', he started a new episode for Hardstyle music and opened the door to a new audience. He's also a pioneer for exploring new territories and cities, bringing him all over the world to serve his worldwide fanbase. Next to his great singles. Brennan Heart composed several anthems (like Qlimax 2010 with a live symphonic orchestra) and played all main stages of the international events. His fans rewarded him with many votes for the DJ Mag Top-100, entering the list in October 2011 and rising to position 49 in 2012.
'Lose my Mind' is his eminent release in 2012 and the first one of his own label 'Brennan Heart Music'. This collaboration with Wildstylez shows the catch-factor of this tracks; all party-people can sing the chorus by heart. This new status also created more interest for his previous releases like 'Wake Up' and 'Running Late', as well for his albums 'Musical Impressions' (2009) and M!D!FILEZ (2010). He also co-writed the track 'Feel U Here' with Dash Berlin, which shows his ability to compose in various genres. 
In 2012, Brennan Heart will proceed with his international career with new tracks, events and video-content. Tracks like 'We Can Escape' and 'Never Break Me' have been highlyrewarded and supported his position as one of the leading producers and DJ's of the hard-dance scene.
Discography
| Title | Alias | Year | Label |
| --- | --- | --- | --- |
| Payback | The Prophet & Brennan Heartㅅ | 2006 | M!D!FY |
| Evolut!on Of Style | Brennan Heart | 2006 | M!D!FY |
| Rev!val X | Brennan Heart | 2006 | M!D!FY |
| One Blade | Blademasterz | 2007 | M!D!FY |
| Rush The Rmx | Brennan Heart | 2007 | M!D!FY |
| Get Wasted (Defqon.1 Festival Anthem 2007) | Brennan Heart | 2007 | Q-Dance |
| Faith In Your DJ | Brennan Heart | 2008 | M!D!FY |
| Fearless / Wooloomooloo | Brennan Heart Meets Clive King | 2008 | M!D!FY |
| Memento / Remember, Remember... | Brennan Heart | 2008 | M!D!FY |
| Home / Homeless | Brennan Heart Ft. Shanokee | 2008 | M!D!FY |
| Musical Impressions | Brennan Heart | 2009 | Cloud 9 Dance |
| Musical Impressions Album Sampler 001 | Brennan Heart | 2009 | M!D!FY |
| Musical Impressions Album Sampler 002 | Brennan Heart | 2009 | M!D!FY |
| Musical Impressions Album Sampler 003 | Brennan Heart | 2009 | M!D!FY |
| City Of Intensity (Decibel Anthem 2009) | Brennan Heart | 2009 | M!D!FY |
| Faith In Your DJ Tool (Blademasterz DFQN RMX) | Brennan Heart | 2009 | Self Released |
| Blending Harder Styles | The Viper & G-Town Madness vs. Brennan Heart | 2010 | Viper Beatz |
| M!D!F!LEZ (DJ Tools Only) | Brennan Heart | 2010 | Scantraxx |
| M!D!F!LEZ Sampler | Brennan Heart | 2010 | M!D!FY |
| M!D!F!LEZ Sampler 002 | Brennan Heart | 2010 | M!D!FY Digital |
| M!D!F!LEZ Sampler 003 | Brennan Heart | 2010 | M!D!FY Digital |
| M!D!F!LEZ Sampler 004 | Brennan Heart | 2010 | M!D!FY Digital |
| Album Sampler 005 | Brennan Heart | 2010 | M!D!FY Digital |
| Revelations (Reverze 2010 Anthem) | Brennan Heart | 2010 | M!D!FY |
| Muscial Impressions Album Sampler 004 | Brennan Heart | 2010 | M!D!FY |
| Alternate Reality (Qlimax Anthem 2010) | Brennan Heart | 2010 | Q-Dance |
| Qlimax - In An Alternate Reality | Brennan Heart | 2010 | Cloud 9 Dance, Q-Dance |
| Light The Fire (2011 Mix) | Brennan Heart | 2011 | M!D!FY |
| Wake Up (Prophet's Hardcore Remuxx) | The Prophet & Brennan Heart | 2011 | Self Released |
| Memento / Musical Impressions (The Remixes) | Brennan Heart | 2011 | M!D!FY |
| M!D!F!LEZ Sampler 005 | Brennan Heart | 2011 | M!D!FY Digital |
| Wake Up! / Till U Believe It / Face The Enemy (Zany Remix) | Brennan Heart & The Prophet | 2011 | M!D!FY |
| Bang The Bass | Zany & Brennan Heart | 2011 | Fusion Records |
| What's It Gonna Be / Running Late | Brennan Heart | 2012 | Brennan Heart Music |
| Life That We Dream Of (City2City) | Brennan Heart | 2012 | Brennan Heart Music |
| Running Late / Lift Me Up | Brennan Heart | 2012 | Brennan Heart Music |
| We Can Escape (Intents Anthem 2012) | Brennan Heart | 2012 | Brennan Heart Music |
| Lose My Mind | Brennan Heart & Wildstylez | 2012 | Brennan Heart Music |
| Decibel 2013 | Brennan Heart, Tha Playah & Fatima Hajji | 2013 | Be Yourself Music |
| Freaqshow (2012 Anthem) | Brennan Heart | 2013 | Q-Dance |
| Never Break Me | Brennan Heart | 2013 | Brennan Heart Music |
| Imaginary | Brennan Heart & Jonathan Mendelsohn | 2013 | WE R |
| F.I.F.O. | Brennan Heart | 2013 | WE R |
| Evolution Of Style | Brennan Heart | 2014 | WE R |
| Fight The Resistance | Brennan Heart & Zatox | 2014 | WE R |
| Never Break Me (Toneshifterz Remix) | Brennan Heart | 2014 | WE R |