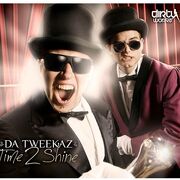 Time 2 Shine is an album by Da Tweekaz that was released on the 8th October of 2012.
With collaborations with artists like Coone, Hard Driver, Josh & Wesz, In-Phase, Wasted Penguinz and MC Chucky, they have conjointly done remixes for Demoniak and Isaac and to add one thing totally different to their album, a contented hardcore remix of "Break the Spell". Taking the scene by storm, their album has picked up quite some hoopla over the weeks following its release, causing their tracks sport into top 10 lists of diverse dance charts, like Hardstyle.com.
Tracklist
Edit
Da Tweekaz - Time 2 Shine
Da Tweekaz ft. Lene Kokai - Norwegian Lullaby (Eg Har En Tulle)
Da Tweekaz - Cheese Police
Da Tweekaz & Hard Driver - Feel The Night
Isaac - The Sound Of The UNderground (Da Tweekaz Remix)
Da Tweekaz ft. MC Chucky - Born This Way
Da Tweekaz - Tweekend
Da Tweekaz ft. Oscar - Break The Spell
Da Tweekaz & In-Phase - Don't Stop
Demoniak - The World Needs To Hear (Da Tweekaz Remix)
Da Tweekaz & Coone - Born In The 80's
Da Teekaz - Become (Wasted Penguinz Remix)
Da Tweekaz & Josh & Wesz - Catch The Light
Da Tweekaz - Angeli Domini (2012 Edit) (Bonus Track)
Break The Spell (Hixxy Remix) ends at 6:21 but starting at 6:48 there's Angeli Domini, which is a hidden track-
Community content is available under
CC-BY-SA
unless otherwise noted.