The Sandman Will Keep You Awake - The Loop
Play Sound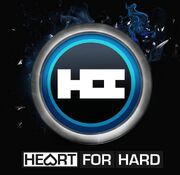 Heart for Hard is a project that consists of a recordlabel & agency. It also hosts events in Europe. They also had a radiostation with their own shows. These activities have been stopped in 2015 as they started their own recordlabel & agency.
History
[
]
Starting in 2009, they have been broadcasting several concepts such as: Indus3, Heart for Hardcore, Lunatek, Phunk it Up Radio and the popular Heart for Hardstyle radio show, which was nominated in the now defunct Fear.FM Awards of 2011[1].
In 2012, Heart for Hard joined forces with Bass Events to host the official Bassleader Radiospecials with guestmixes by Frontliner, Radical Redemption, Adaro, Crypsis and more. Shortly after this special, they also hosted the official Alcatrazz Radiospecial with Geck-O.
The Heart for Hardstyle Radioshow has its own residents. Next to these residents, it invites guests from labels such as Fusion, Scantraxx, Theracords and Dirty Workz.
Since 2009, they host events in the Netherlands and Belgium. Known concepts are Heart for Hard, Hardcore Community, Heart for Hardstyle, Heart for Hardcore and IDentity.
In 2014 , Heart for Hard started their own recordlabel with a small team. They also have a sublabel called Indus3, where they introduce new acts and develop their skills.
Acts that started on Indus3 Records moved on to the main label after 3 releases (according to the current data). Artists that have moved to the main Heart for Hard label are: Regain & Neroz. Their first Heart for Hard releases hit the number 1 positions in the charts at Hardstyle.com.
In 2017, Heart for Hard also reached out to new talent. They developed a training program that focusses on expanding the producing skills of starting and experienced producers. The sessions can be planned via Skype or in the studio. The first sessions were called the "Heart for Hard Studio Sessions". At Dancefair 2017, Robin (Heart for Hard manager) & Wesley (Shockerz) introduced the new name for the program called: Hardstyle.pro.
Current artists
[
]
Neroz

(Heart for Hard Records)

Regain

(Heart for Hard Records)

Udex

(Heart for Hard Records)
Avian (Indus3)

Insidiouz

(Indus3)
Kenai (Indus3)
MC Renegade (Heart for Hard Records)
Discontinued / Former acts
Respawn

(former act)
Polish Raw Showcase (former act, not available for bookings)
Djen (former act, not available for bookings)
Two-Sixty (Indus3)

Blackwatch

(Heart for Hard Records)
Heart for Hard Records
[
]
Heart for Hard has an active record label[2].
Indus3
[
]
Indus3 is a sublabel for new & developing acts[3].
Links
[
]
References
[
]