| | |
| --- | --- |
| | |
| Name | Bas Oskam |
| Country | The Netherlands |
| Genre | Euphoric hardstyle |
| Years active | 2005-present |
| Labels | |
| Websites | |
| Past members | Arjan Terpstra |
Noisecontrollers, born as Bas Oskam in the Netherlands, started producing the end of 2005 along with Arjan Terpstra.
Arjan produced hip-hop and Bas was producing hardtrance. They decided to start producing hardstyle together and from that moment Noisecontrollers was born with only one goal: bringing hardstyle to a next level.
In 2006 the response on their music was so great they decided to start a special live-act which they fired in 2007. Within 1 year they mostly played all through Europe, USA and Australia, on events like X-Qlusive, In Qontrol, Reverze, Hardbass, Qlimax and more.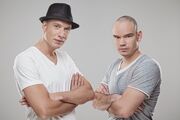 They released their music on Fusion Records, which started with "Creatures". After that, they got massive response on their second release containing "Crump", "Marlboro Man" and "Aliens".
In 2011 they created a label with Wildstylez called Digital Age.
In November 2013 they decided to split up, and Bas Oskam continued the project, and Arjan Terpstra left to experiment with hard dance music.
Their final events together were Qlimax 2013, on the 23rd of November 2013 and Clublife at Helsinki, Finland on the 21st of December 2013.
Discography
Edit
| Title | Alias | Year | Label |
| --- | --- | --- | --- |
| Creatures / Against All Odds | Noisecontrollers | 2007 | Fusion Records |
| Crump / Marlboro Man / Aliens | Noisecontrollers | 2007 | Fusion Records |
| Wanna Freak You | Noisecontrollers vs. Speedy Bass | 2007 | DJS Records |
| Shreek / Venom / Rushroom | Noisecontrollers | 2008 | Fusion Records |
| Bassleader Anthem | Noisecontrollers, Ronald-V & Chicago Zone | 2008 | Zoo Records |
| The Battle | Noisecontrollers vs. Technoboy | 2008 | Digidance |
| Tonight | Headhunterz & Wildstylez vs. Noisecontrollers | 2009 | Scantraxx Reloaded |
| Surge Of Power EP Part 2 | Noisecontrollers | 2009 | Fusion Records |
| Yellow Minute / Sanctus / Revolution Is Here / Attack Again | Noisecontrollers | 2009 | Fusion Records |
| Ctrl.Alt.Delete (In Qontrol Anthem 2009) | Noisecontrollers  | 2009 | Q-Dance |
| Surge Of Power EP Part 1 | Noisecontrollers | 2009 | Fusion Records |
| Paranoid / Diffusion / Diavoli | Noisecontrollers & Zany | 2010 | Fusion Records |
| Jaydee / Empire Of The Sun | Noisecontrollers & Toneshifterz | 2010 | Fusion Records |
| Thrillogy | Nosferatu, Isaac, Noisecontrollers | 2010 | B2S Records, Cloud 9 Dance |
| Bass Mechanics / Universe | Noisecontrollers & Psyko Punkz | 2010 | Fusion Records |
| Yellow Minute (Alpha² Remix) | Noisecontrollers | 2010 | Fusion Records |
| Faster 'N Further / Macabre 2010 / Club Jumper / Darkside Of Emotions | Noisecontrollers | 2010 | Fusion Records |
| Summer In The City (Official Decibel Anthem 2010) | Noisecontrollers | 2010 | B2S Records |
| The Art Of Yellow | Project One vs. Noisecontrollers | 2011 | Wildstylez Self Released |
| Ready 2 Go | Noisecontrollers feat. MC Renegade | 2011 | Self Released |
| Unite (Official Defqon.1 Anthem 2011) | Noisecontrollers | 2011 | Q-Dance |
| Escape | Noisecontrollers | 2011 | Self Released |
| Disco Is The Music | Noisecontrollers | 2011 | Self Released |
| Give It Up | Noisecontrollers | 2011 | Digital:Age |
| A Different Story | Wildstylez & Noisecontrollers | 2011 | Digital:Age |
| Stardust | Noisecontrollers & Wildstylez | 2011 | Digital:Age |
| Gimme Love | Noisecontrollers | 2011 | Digital:Age |
| Marlboro Man (The Pitcher Re-Amp) | Noisecontrollers | 2011 | Fusion Records |
| E=NC² [The Science Of Hardstyle] | Noisecontrollers | 2012 | Scantraxx |
| Pillars Of Creation | Noisecontrollers | 2012 | Digital:Age |
| Crump (Ran-D Remix) / Revolution Is Here (Donkey Rollers Remix) | Noisecontrollers | 2012 | Digital:Age |
| Quatre Mains | Noisecontrollers & Pavelow | 2012 | Digital:Age |
| E=nc² | Noisecontrollers | 2012 | Digital:Age |
| Break The Show / Sludge | Noisecontrollers | 2012 | Digital:Age |
| World Of Madness | Headhunterz, Wildstylez & Noisecontrollers | 2012 | Q-Dance |
| Aliens (Digital Punk Remix) / Night After Night (Zany Remix) | Noisecontrollers | 2012 | Digital:Age |
| Moonraker | Noisecontrollers Feat. Alpha² | 2012 | Digital:Age |
| Move Your Body (Noisecontrollers Remix) / Universe Was Born | Noisecontrollers | 2012 | Digital:Age |
| Tonight (Alpha² Remix) | Headhunterz & Wildstylez vs. Noisecontrollers | 2012 | Scantraxx Reloaded |
| Astral (Audiofreq Remix) | Noisecontrollers | 2012 | Audiofreq Self Released |
| So High | Noisecontrollers | 2012 | Digital:Age |
| Get Loose | Showtek & Noisecontrollers | 2013 | Owsla |
| Experience The Beyond (Official IQON 2013 Anthem) | Noisecontrollers | 2013 | Q-Dance |
| We Are The Noisecontrollers | Noisecontrollers | 2013 | Self Released |
| Gaia 2008 | Noisecontrollers | 2013 | Self Released |
| Set U Free (DJ Tool) | Noisecontrollers | 2013 | Self Released |
| Shrump (DJ Tool) | Noisecontrollers | 2013 | Self Released |
| In The Marine | Noisecontrollers | 2013 | Self Released |
| Fairytale | Noisecontrollers | 2013 | Self Released |
| Why So Serious | Noisecontrollers | 2013 | Self Released |
| All Around The World | Noisecontrollers | 2013 | Q-Dance |
| Feel So Good / Trick Or Treat | Noisecontrollers | 2013 | Scantraxx |
| Craving For The Beat (Official Decibel 2013 Anthem) | Alpha² & Noisecontrollers | 2013 | A² Records |
| Destroyer Of Worlds | Noisecontrollers | 2013 | Q-Dance |
| HARD with STYLE Episode 30 | Headhunterz & Noisecontrollers | 2014 | HARDwithSTYLE |
| What?! | Noisecontrollers | 2014 | Q-Dance |