The Sandman Will Keep You Awake - The Loop
Play Sound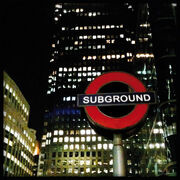 Subground is a hard dance genre formulated by Activator in early 2011. Originally it was only published on label of the same name, but lately it's getting releases on other labels.
It is the main genre featured at the QULT Radio Show, by Geck-o, and the QULT events.
History
[
]
At the end of 2010, being inspired by German producers Kamui, & UK producers Organ Donors, Activator had a meeting with a few Italian hard dance DJs to discuss this new concept of hard dance music besides hardstyle because they all thought that the whole scene was pretty "flat" and needed an alternative. Basically the idea was going back to their roots: combining an old flavored beat with a new refreshing sound.
They tried to make something but the result was too "old-fashioned". After that they went on with their individual DJ careers but Activator wanted to give himself another try. He wanted to create something that could match the hard dance scene but also the electro scene, thus the slower BPM ranging from 130 to 135, but with an aggressive sound, less melody breaks but more tension and crescendo parts, less groovy and repetitive loops but energetic and uplifting build ups, less predictable and more unexpected surprise climax. But all ingredients needed to be well defined by a sub bass on beat, that had to be the common element of that first experiment. The result was the track Darron, which is included in the first Subground label released one year later in 2011.
Subground was presented in Italy in February 2011 during an hardstyle night. It was played a few other times in Italy but the genre needed a big international party to reach the masses. Activator sent one hour of Subground to Q-dance explaining the whole concept around that and they supported it fully, giving him the chance to present Subground at Defqon.1. He started the label immediately but he didn't want to change his artist name because he thought that only keeping "Activator" he would have get the right attention by the scene.
Activator guaranteed "that in the near future [he] will keep hardstyle and subground distinct."[1]
Over the following years, mainly in 2014, subground gained massive popularity within the hard dance scene, since it is promoted in the QULT radioshow[2] and events, along with electro, hardstyle and techno.
Description
[
]
Subground is a mix of various music genres which consists of a sub bass on beat mixing influences from multiple electronic dance genres such has techno, hardstyle and hardtrance, characterized by a tempo around 130-135 beats per minute, just like electro tracks.
References
[
]